Tarot Of Possibilities School
Knowledge is magic.
Magic is creativity.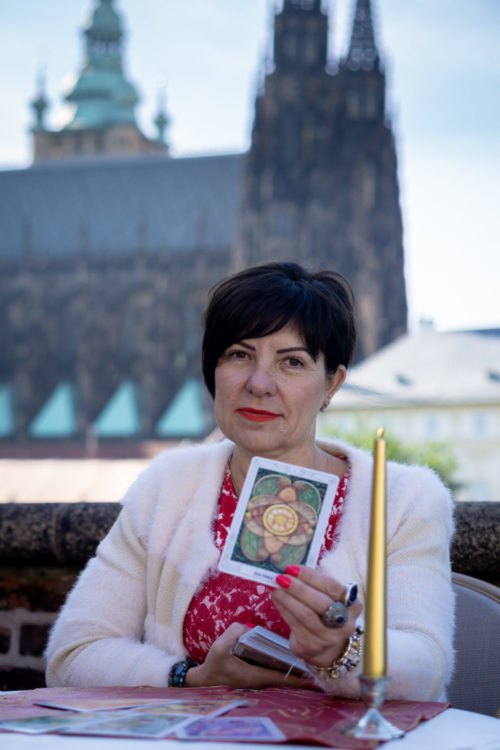 For over 20 years I have been studying and practicing the Magic Tarot.
I studied many esoteric disciplines — numerology, astrology, runes, alchemy, practical magic, but my main subject of study and practice has always been Tarot.
Tarot, as a system, is a tool for diagnostics, predictions, and modeling.
It is a tool that allows you to understand yourself, discover new opportunities, expand your vision of the world, improve your life and the life of your loved ones and become happier.
Everyone can learn this. You just have to start right.
I have gone from a beginner to a master and I have been teaching Tarot for over 7 years. My students successfully implement the information they had received and become the creators of their lives.
I am always happy to share my knowledge and experience.
Join the study of Tarot and you will see how your life begins to change.
Tarot has become my love and I will be glad to share this love with you.
What people say about the Tarot Of Possibilities School.
I did not consider myself an amateur in esotericism, I read a lot and even partially practiced some of it. And, of course, having learned about the Tarot courses, I immediately signed up into the first group. Alina opened the whole world of Tarot for me, these were fascinating lectures, a lot of practice and magnificent workshops! Alina is a really patient teacher, if something was unclear, she always helped individually and attentively! Thanks to Alina's Tarot course, I have practical skills to find answers, from the simplest question of how the day will go and to the analysis of more difficult life situations in any field! I am always glad to meet with Alina at the workshops and I want to recomend everyone to take this wonderful opportunity!
Before meeting Alina, I really wanted to find a master who would teach me Tarot and magic. And so my dream came true and I became a Alina's student. She became my mentor, for which I am very grateful to her. Alina is a master of her craft. She taught me a lot and I continue to study, because Alina is an inexhaustible source of knowledge and practice. If you study Tarot, then only from Alina. I am very grateful to her for everything that she does for me, for her patience with which she treats me when she teaches. With thanks and respect.
The Creator created this life, and each of us has His part. Our path is long, thorny, and it has pitfalls and shaky sands. To smooth our Path in life, we meet many teachers. Alina turned out to be a ray of light on my road of life. She taught me to enjoy the miracle of life, smooth pitfalls and get out of unsteady sands, helped to find wings, and enjoy life. Now I know that Tarot is not just paper cards, but a whole world that surrounds us, and with which we are able to change everything around us. And the opportunity to create miracles with my own hands was provided to me by my teacher, Alina Agida. I am very grateful to her for the knowledge that she conveys with love!
Вебинар по курсу уже скоро